Harrow 0-19 Service (Health Visiting)
Who are Health Visitors?
Registered nurses
Received additional registered training in Public Health, child health and health promotion
What does the Health Visiting Team do?
Health visitors support families from the antenatal period up to school entry, delivering the healthy Child programme. The service is delivered in a range of settings including families' own homes, local community or primary care settings.
Work in skill mix team comprising health visitors, staff nurses, nursery nurses and administrators
Support families including providing an enhanced service for those most in need
Make referrals when additional support is needed
Liaise with other professionals such as GPs, social care and voluntary sector
Here are some types of advice we provide
Child's health and wellbeing
Health promotion – promoting health and wellbeing
Promote ICON (Infant cry, Comfort, Ok to walk away, Never shake your baby) to reduce abusive head trauma
Safe sleeping / preventing risk of sudden infant death
Infant feeding advice – feeding classes are listed below
Promote Healthy start- Vitamin Supplements / Vitamin D
Identifying and managing minor ailments
Immunisations
Newborn bloodspot screening
Oral health
Supporting parents with premature babies
Parental relationship / parenting/ attachment
We build on families' strengths and Connect families to the right support and find solutions together, by working in partnership with other agencies such as GP, School nursing, paediatricians, dieticians, Speech and Language therapies, Occupational therapies, physiotherapy.
WE create positive long-lasting relationships with our partner agencies so we can help and advocate for our families – GP LINK Health Visitor, Champions (special interest area), Children centres /Early Support meetings and run groups together with such as Weaning sessions.
Child development
Sleep and behavioural difficulties
Speech, language and communication
Developmental reviews, 6-8 weeks, 9 - 12 months and 2 - 2 ½ year reviews for our Universal families
School readiness, toilet training, healthy eating and healthy lifestyles.
Adult physical health
Pregnancy planning/antenatal contacts/ both parents are included.
Postnatal contact/ introduction to health visiting service and our role.
Health promotion, from antenatal period for both mother and baby.
Promoting healthy lifestyle including physical activities, smoking and alcohol advice
Mental health
Promoting mental health and wellbeing for the family
Assessment of mental health using assessment tools
Signposting/ Referrals to relevant services
Safeguarding
Safeguarding children is a very important part of our role and we work closely with Harrow Children Care.
MECSH – Maternal Early Childhood Sustained Home Visiting Service
MECSH is integrated within our universal health visiting service as a sustained home visiting programme predominantly for families needing ongoing support but also serving some families who require a more comprehensive response. Your health visitor will assess your eligibility for the MECSH programme at your antenatal or new birth contact.
ICON
The ICON programme is an effective way to prevent abusive head trauma. We discuss the fact that Babies cry but you can cope – your health visitor will discuss further.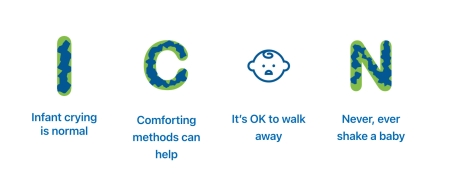 Icon will be discussed at the following contacts: Antenatal, New birth, and 6-8 weeks.
Duty health visitor
If you have any concerns about your child, please contact your named health visitor or our Duty line on: 020 3317 2555 Monday to Friday 9am-5pm.
Champions and specialist roles
There are champions in the Health Visiting teams for Children with Special Needs, Care of Next Infant (CONI), Infant Feeding Support, Accident prevention, Oral Health and MECSH
Free baby feeding support groups in Harrow
All welcome
Monday 12-3pm - Cedars Children's Centre, Whittlesea Road, Harrow Weald, HA3 6LS
Thursdays 12-3pm - Kenmore Park Children's Centre, Warneford Road, Kenton, HA3 9HZ.
Come along to get some support with feeding your baby or have a chat with other mothers. A Health Visitor, Peer Supporter and Lactation Consultant will be at each group.
Harrow Community Child Health Clinics
The clinics are a combination of weight and infant feeding clinics – Appointments only
Harrow Health Visiting Team
Milman's Resource Centre, Grove Avenue, Pinner, HA5 5PF
Tel: 020 3357 2555
Email: This email address is being protected from spambots. You need JavaScript enabled to view it.
Harrow Families Information
Tel: 0208 901 2690
Website: www.childcarelink.gov.uk
BCG
To book a BCG Please email This email address is being protected from spambots. You need JavaScript enabled to view it.
Monday
Infant feeding clinic: Cedars Children centre, Whittlesea Road, Harrow, HA3 6LS
Time: 12-3pm, buses H18, H14
Tuesday
Weight only: Milman's clinic, Grove Avenue, Pinner, HA5 5PF
Time: 09:30-12:00, buses: 183, H13
Appointment only: tel: 020 3317 2555, email: This email address is being protected from spambots. You need JavaScript enabled to view it.
Weight only: Kenmore Park, Warneford Road, Harrow, HA3 9HZ
Time: 09:15-11:30, buses 114, 79
Appointment only: tel: 020 3317 2555, email: This email address is being protected from spambots. You need JavaScript enabled to view it.
Wednesday
Weight only: Milman;s Clinic, Grove Avenue, Pinner, HA5 5PF
Time: 09:30-12:00, buses: 183, H13
Appointment only: tel: 020 3317 2555, email: This email address is being protected from spambots. You need JavaScript enabled to view it.
Thursday
Infant feeding clinic: Kenmore Park, Warneford Road, Harrow, HA3 9HZ
Time: 12-3pm, buses 114, 79
Weight only: Cedars Children centre, Whittlesea Road, Harrow, HA3 6LS
Time: 09 :30-12:00, buses H18, H14
Appointment only: tel: 020 3317 2555, email: This email address is being protected from spambots. You need JavaScript enabled to view it.
Friday
No clinic